Because I HAVE AN OBSESSION. I hoard them too hard. Bath & Bodyworks always has sales going on and I've started buying the 3-wick ones a lot and just COLLECTING THEM. I'm like, oh, I'll stock up while they're cheap! But then they go on sale again and IT NEVER ENDS. But, of course, once you get sucked into the Etsy hole there is no going back, and there are so many bookish candles, and I AM DYING.
Okay. So we've got
NovellyYours
and
theleakycandle
, of course. I'm constantly looking at the NovellyYours candles and I actually bought two from theleakycandle while they were on sale this month, one Slytherin and one Game of Thrones one because THE NORTH REMEMBERS, DAMMIT. I hope to try the Mother of Dragons one, the Luna Lovegood one, and SO MANY MORE, REALLY. ALL OF THEM.
The 4 oz. candles from theleakycandle are $7.50 while the 8 oz. candles are $12.75, and the 8 oz. from NovellyYours are $11. (Also you can get 10% off through the month of July on any HP candles!)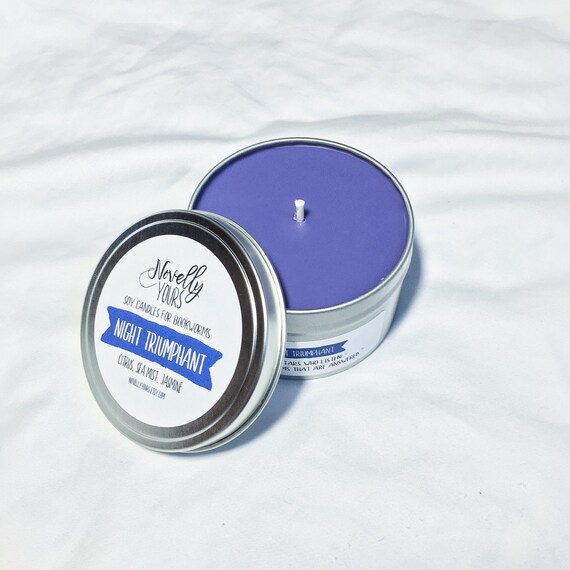 Rhys. *swoons*
SPEAKING OF RHYS. Another shop,
In the Wick of Time

,
also has a Rhys candle! That I bought. And love. I also bought the Ketterdam candle because Six of Crows is basically my life. I will say that the Ketterdam candle doesn't have as pleasant of a smell to me, and I probably won't buy from this shop again just because it's pretty expensive. I spent around $40 for two candles with shipping included, and that is just too much for me. But the owner is SO sweet and LOOK AT HOW AESTHETICALLY PLEASING THESE ARE. There are a ton of candles from this shop I would love to try if I could afford to drop the money, like a Storybrooke candle and SO MANY MORE.
I just. Need Crooked Kingdom. *holds back a sob*
Not actually a candle but JUST LOOK AT THIS CANDLE HOLDER FROM
NOVELARTSIDEAS
. There's a cool Daenerys one too. I just never buy any candles that actually require a separate candle holder.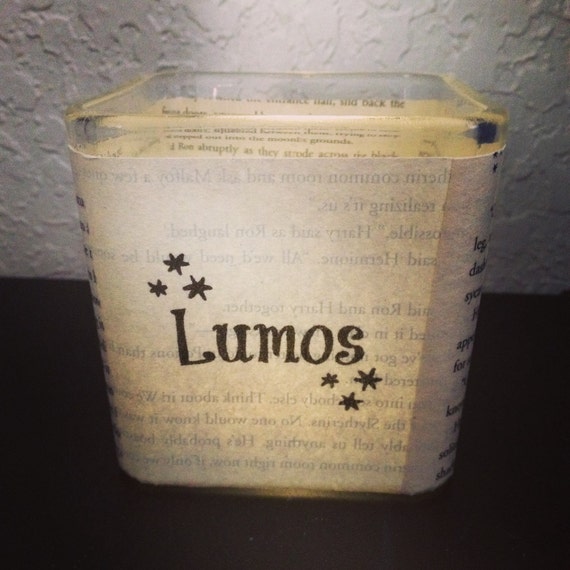 GeekNest
also has plenty of Harry Potter candles. And some Lord of the Rings candles, which reminds me, time for an absolute marathon, no?
You can get a 4 oz. for $8.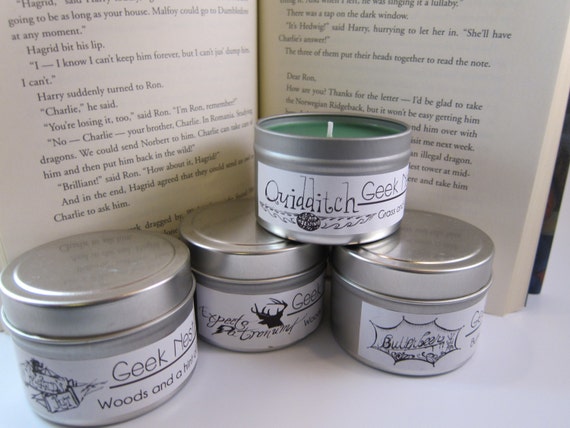 MORE KETTERDAM. MORE RHYS. SOME BUTTERBEER AND SOME RATTLING OF THE STARS. There are also a few Outlander candles you can find at
LiberdeStella
!
A 4 oz. jar is $16, while a 9 oz. jar is $18.
For a little more perspective, my 3 wick candles from Bath & Bodyworks are 14.5 oz. They cost $22.50 but they're usually on sale for $10-$12 plus I always have either a 20% off or $10 off $30 coupon. Granted, pretty much all the Etsy ones are soy while the Bath & Bodyworks ones are not, if that matters to you.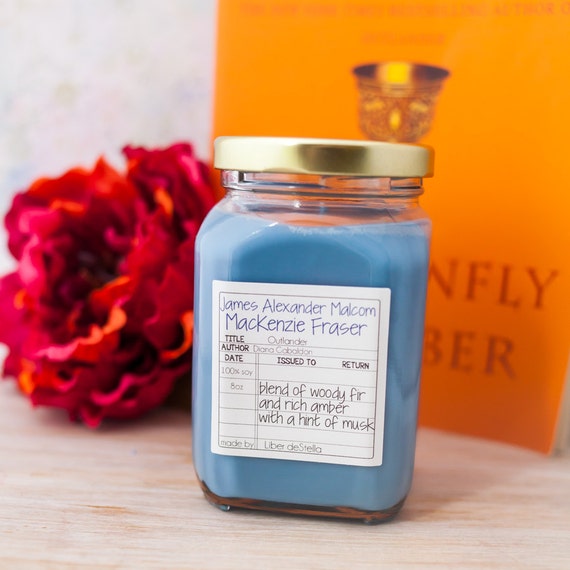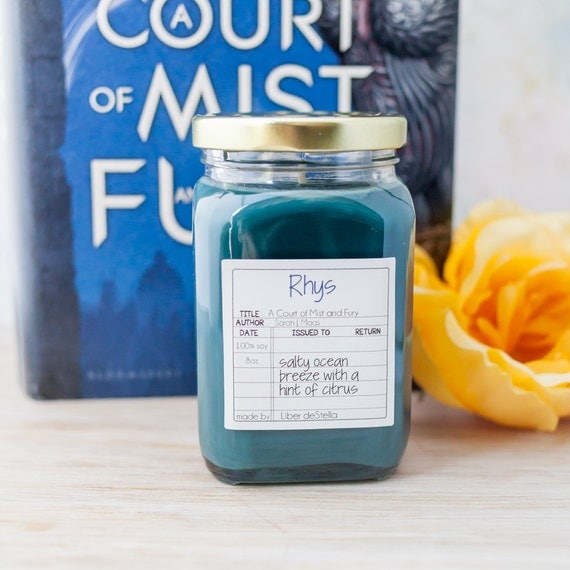 formandflux also has a lot of really cool looking candles! Like, JUST LOOK AT THE BEAUTY BELOW. However, they cost $17.73 and another, like, $12 to ship for me since they come from Australia. So I will just enjoy this photo instead.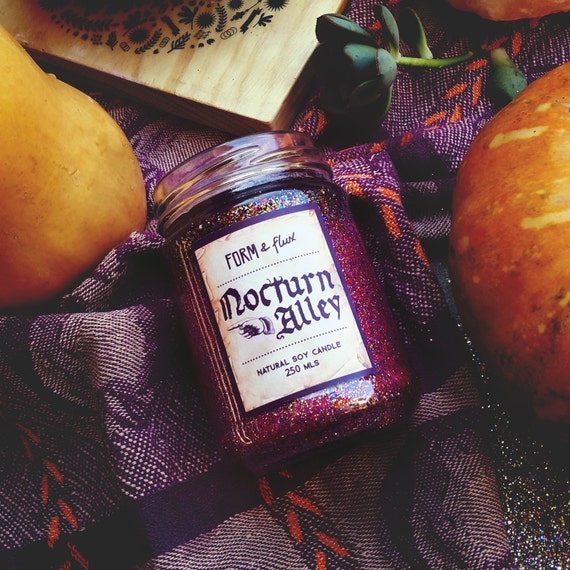 Cinderella's Carriage! Hagrid's Hut! The Sorting Hat! SUGAR PLUMS! I honestly want every candle from
MMTrinkets
. EVERY ONE OF THEM.
16 oz. candles are $12.99 which is PRETTY MUCH A STEAL.
Except then you have to pay for shipping and cry.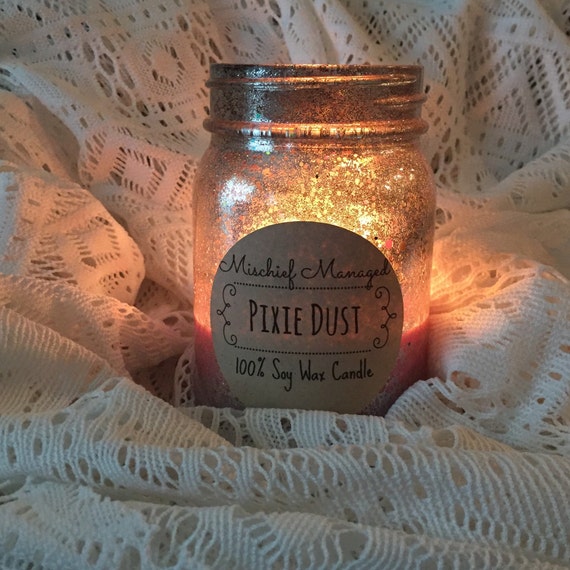 And if you're a fan of Shatter Me or An Ember in the Ashes, visit

TheMeltingLibrary

!
There's also
Harry Potter, Six of Crows, Raven Cycle, Night Circus
candles, AND MORE. These are 8 oz. for $14.50. You can also visit
fromthepage
for MORE CANDLES, including Hobbiton and Narnia. 8 oz. jars are $11.
And finally, at
CherryPitsCrafts
, you can find lots of Harry Potter candles! 8 oz. tins are $10. I really just want to surround myself with Harry Potter and Hogwarts themed things to make up for the fact that I'll never go.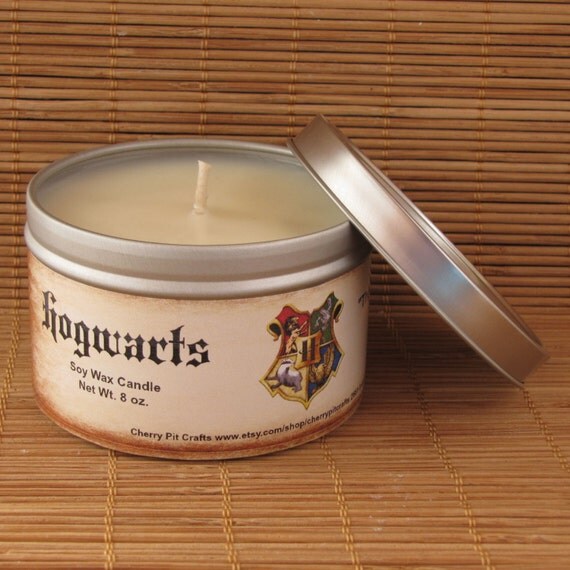 The worst part is I have SO MANY MORE SHOPS in my favorites. I just felt as if this post was getting a little too long. But
how about you? Do you love bookish candles? Do you have any favorite shops, or are you thinking of checking out one of these?