2016 has been long. I'm not a very optimistic person, so I don't really see the light at the end of the tunnel for 2017, but I'm glad we'll get a clean slate, in a way.
I got a new job in 2016 working with monkeys and kind of maybe sorted out what I want to do with my life? Who knows. But my grandpa died in October, too, and he was a huge part of my life. I've lived with him since I was born, he owned the house I grew up in, and now we're cleaning out his stuff and mine and my dad's and getting ready to sell and it's hard. Everything is changing and the uncertainty of next year is
really
scary.
But I also got a cat! She has a genetic condition that makes her kneecaps constantly pop out of their sockets, and we've had to take her to the vet way too many times already for things unrelated to her knees, but she's soft and adorable and so sweet and I love her. She's also OBSESSED with drinking out of the sink.
I didn't read very much in 2016. I tried, but I've been getting so bored and distracted so easily lately. But of what I DID read, here are my favorites from 2016.
My Lady Jane

by Cynthia Hand, Brodi Ashton, and Jodi Meadows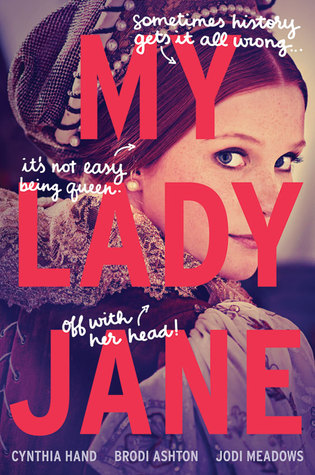 The comical, fantastical, romantical, (not) entirely true story of Lady Jane Grey. In

My Lady Jane

, coauthors Cynthia Hand, Brodi Ashton, and Jodi Meadows have created a one-of-a-kind fantasy in the tradition of

The Princess Bride

, featuring a reluctant king, an even more reluctant queen, a noble steed, and only a passing resemblance to actual history—because sometimes history needs a little help.



At sixteen, Lady Jane Grey is about to be married off to a stranger and caught up in a conspiracy to rob her cousin, King Edward, of his throne. But those trifling problems aren't for Jane to worry about. Jane is about to become the Queen of England.
This book made me laugh out loud so many times. These three authors just work so well and cohesively and it was so nice to read such a cute and fun book that wasn't all dark and heavy and depressing. I got to see them in Chicago (I was super awkward and embarrassing and wish I had said more) and their reenactment was hilarious.
Sloane isn't expecting to fall in with a group of friends when she moves from New York to Florida—especially not a group of friends so intense, so in love, so all-consuming. Yet that's exactly what happens.



Sloane becomes closest to Vera, a social-media star who lights up any room, and Gabe, Vera's twin brother and the most serious person Sloane's ever met. When a beloved painting by the twins' late mother goes missing, Sloane takes on the responsibility of tracking it down, a journey that takes her across state lines—and ever deeper into the twins' lives.

Filled with intense and important friendships, a wonderful warts-and-all family, shiveringly good romantic developments, and sharp, witty dialogue, this story is about finding the people you never knew you needed.
I connected with Sloane SO MUCH in this book and recommend it to anyone who likes contemporary. (There's also a ton of sarcasm and banter that I think you will LOVE.)
Maguire is bad luck.




No matter how many charms she buys off the internet or good luck rituals she performs each morning, horrible things happen when Maguire is around. Like that time the rollercoaster jumped off its tracks. Or the time the house next door caught on fire. Or that time her brother, father, and uncle were all killed in a car crash—and Maguire walked away with barely a scratch.




It's safest for Maguire to hide out in her room, where she can cause less damage and avoid meeting new people who she could hurt. But then she meets Jordy, an aspiring tennis star. Jordy is confident, talented, and lucky, and he's convinced he can help Maguire break her unlucky streak. Maguire knows that the best thing she can do for Jordy is to stay away. But it turns out staying away is harder than she thought.




From author Paula Stokes comes a funny and poignant novel about accepting the past, embracing the future, and learning to make your own luck.
Maguire made my heart hurt because Paula Stokes CAN WRITE EMOTIONS SO WELL. What I love about this book the most is that it has such a positive portrayal of therapy and of mental illness in a way that wasn't super dark and depressing which is what I personally need to read.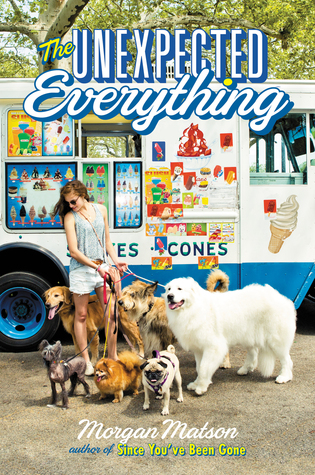 Andie had it all planned out. When you are a politician's daughter who's pretty much raised yourself, you learn everything can be planned or spun, or both. Especially your future. Important internship? Check. Amazing friends? Check. Guys? Check (as long as we're talking no more than three weeks).





But that was before the scandal. Before having to be in the same house with her dad. Before walking an insane number of dogs. That was before Clark and those few months that might change her whole life. Because here's the thing—if everything's planned out, you can never find the unexpected. And where's the fun in that?
Whoops, another contemporary. There are dogs. Adorable dogs. Adorable people. Basically, in 2016 I liked light and happy books because everything else sucked.
Looking Ahead
In 2017, my main goal is obviously: READ MORE. I'm going to be busier and busier so I'm not sure what's going to happen, but I'm going to try.
I also want to get back into fantasy. It was really hard for me this year because fantasies are longer and more in depth usually, and so it requires way more focus for me, and I just couldn't. It would take me weeks. It took me over two months to finish A Court of Mist and Fury. Contemporaries, on the other hand, I could breeze through.
I need to finish some series, particularly Crooked Kingdom and The Raven King.
Here are some of the other books I really want to read in 2017, some old, some new.
I would love to hear what you're most excited to read in 2017! (Not included in this is Before She Ignites by Jodi Meadows which was DRAGONS and I AM IN DIRE NEED OF IT.)