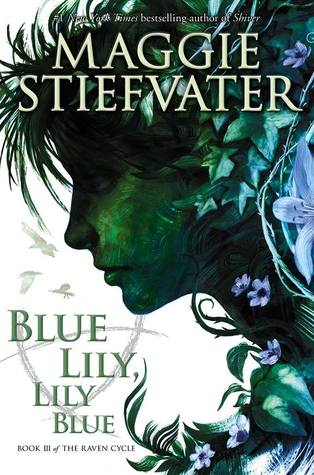 Blue Lily, Lily Blue
(The Raven Cycle #3)
by Maggie Stiefvater
Published: October 21st, 2014 by Scholastic Teen
//
Goodreads
//
B&N
//
Indiebound
//
There is danger in dreaming. But there is even more danger in waking up.

Blue Sargent has found things. For the first time in her life, she has friends she can trust, a group to which she can belong. The Raven Boys have taken her in as one of their own. Their problems have become hers, and her problems have become theirs.

The trick with found things though, is how easily they can be lost.

Friends can betray.
Mothers can disappear.
Visions can mislead.
Certainties can unravel.
The Raven Cycle is unequivocally my favorite series. Maggie Stiefvater never fails to disappoint, and as much as I hate waiting, she certainly makes it worth it. I cannot believe how much I've fallen in love with these characters. Blue Sargent and Richard Gansey are characters that I genuinely think are going to stick with me for a very long time. This book in particular showcases how fiercely Gansey cares for his friends, Blue's family cares for her, etc, though it's certainly a theme that's present throughout the entire series.
I don't think there's anything about this writing that I don't like. The prose is beautiful, the storyline is always evolving and taking you to new places, and the mystery is interwoven with so much more that just leaves you with the feeling that this book is so
real
. It amazes me how a book full of magic time-bending forests, people and objects literally pulled out of dreams, and a mystery focused on a buried king who's been sleeping for hundreds of years can still seem so real. But that's one of Stiefvater's many talents - she knows that there's more to a great story than just a little magic and mystery. Her characters are teenagers; they go to school, they argue, they worry. They're not constantly focused on romance, but they're still human - it's there. (I'm not going to start talking about Blue and Gansey, because I'd be writing for days. But Maggie Stiefvater knows how to hit me. She knows just how to make it hurt. AND I LOVE IT.)
Whereas The Dream Thieves was a lot more about the characters and getting inside the deeper parts of their minds, Blue Lily, Lily Blue was more about finally getting down to the mystery that's been brewing since book one. I appreciated the fact that we finally got some answers. What I appreciate even more is the fact that there's still another book left - I don't think I want it to end.
In short: this series is still going strong. Blue Lily, Lily Blue was a fantastic addition that stayed true to the characters we've already fallen in love with while finally revealing some long-awaited answers. Absolutely 5 stars.